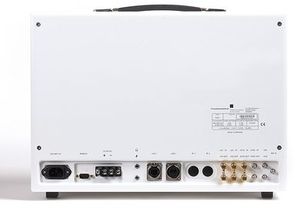 The IZT R3301 is a portable receiver with an integrated server for data recording. The receiver is optimized for recoding of RF signals in frequently changing environments.
The IZT R3301 is the preferred means for recording RF signals in the field. It uses IZT's renowned IZT R3000 digital receiver integrated into a portable RF recorder. Two Terabytes of storage space can re
cord up to 20 MHz bandwidth over six hours with 16 Bit resolution. Multiple narrow band channels can be recorded as well. The equipment is shielded for minimum RF emissions and optimized for operation onboard a vehicle.
Should it be necessary to capture signals for collect emitter location information as part of DF systems, multiple IZT R3301 can be fully phase synchronized or synchronized via GPS timestamps (TDOA method).
Key features
Spectrum Monitoring
TDO location finding
Wideband Record & Replay system IZT RecPlay
Diversity & multi-frequency setup
Portable HF-VUHF-SHF receiver
Frequency 9 kHz - 3 GHz (6 GHz / 18 GHz optional)
Continuous recording of 20 MHz RF bandwidth
Integrated 2 TB RAID storage and GPS receiver
Widerange AC/DC supply with backup battery
Compact and rugged design for mobile use
Extremely low RF emissions